UW Colleges Mathematics Requirements
The University of Wisconsin Colleges consists of the following units and each unit offers freshman/sophomore level University instruction.
UW-Baraboo/Sauk County, UW-Barron County, UW-Fond du Lac, UW-Fox Valley, UW-Manitowoc, UW-Marathon County, UW-Marinette County, UW-Marshfield/Wood County, UW-Richland, UW-Rock County, UW-Sheboygan , UW-Washington and UW-Waukesha
If you plan to transfer after your sophomore year from a UW College to a particular UW institution, review the highest level mathematics courses, elsewhere in this booklet, that are required by that institution for the program you are interested in. That will give you an idea of how many more math courses you will need to take to major in the field you have chosen.
Your guidance counselor and math teacher will be able to help you to plan your schedule for your senior year.
The thirteen UW Colleges offer freshman/sophomore level university education. Each UW College offers a transfer curriculum for the baccalaureate degree and professional studies and also offers a liberal arts Associate of Arts and Science Degree. The mathematics requirement for this degree is a grade of C or better in Mat 108 or Mat 110. Possible exemptions from this are covered in the UW Colleges catalog and involve passing or placing into various higher level courses.
If you know the UW institution you intend to transfer to, look at the information provided elsewhere in this booklet about mathematics requirements for the program you are interested in for that institution. You should also seek help from the Student Services staff at the UW College and at the transferring institution.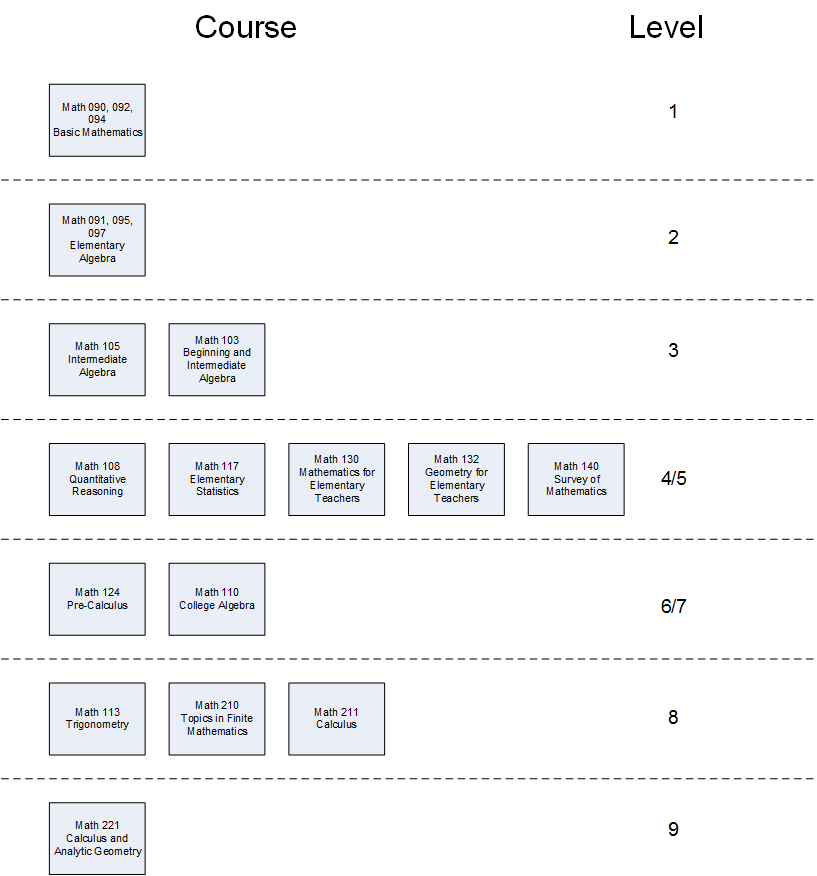 UW Colleges Mathematics Course Sequence
Return to Homepage